Next Marcātus is this Sunday July 10th -
11am-6pm

  
Two Areas of Sound by EightyEight DC and Lil Soso continues with:
Neil Kurland
Juan Zapata, Joe L. & Hugo Zapata
inK house (illogic n Kochi)
Boss Ross
Sam 'The Man' Burns
The Sol Power All Stars
Funk DC

FREE Live Musical Performances by One Love Massive!
Parasols and Popsicles
Featuring performances by Soul Patch
Tim Jackson
The Band Called Future
Moonbounce DJs

Also added Musical Performances by:
Batala
Maracatu de Baque Virado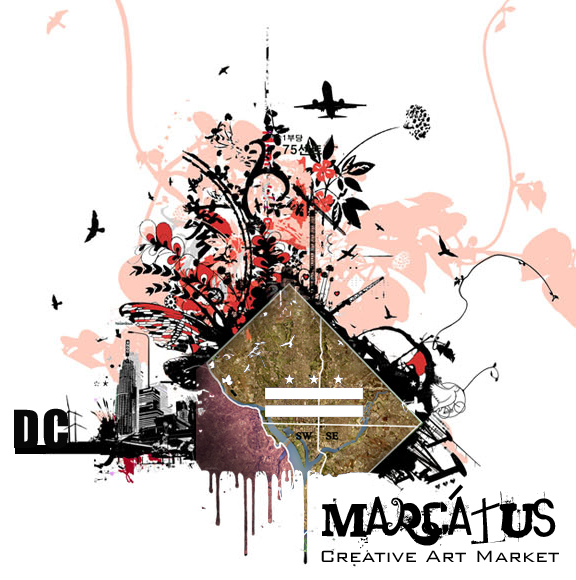 Marcātus, a creative art market near the Nationals Ballpark, will be a multidimensional event different than any other to reach the District.  Marcātus invites you to come out for the whole day to enjoy the sounds of live music, smells of exotic foods, eye candy of art, to hunt for creative treasures, or simply to relax on the Great Lawn with a frosty beverage taking in the picturesque views of the Anacostia River.

Location: The Yards Park 
10 Water St SE Washington, DC - DO NOT USE YOUR GPS
This park is so new it will take you to the wrong place if you use your GPS.
Please use the map below.  Even Googlemaps and mapquest have it wrong.
(One block south of N and 3rd Streets, SE) 
Three blocks from the Navy Yard Metro (New Jersey Ave Exit) 

Event is free and open to the public

Schedule:
First Sunday of every month (Except July which will be Second Sunday).    
April 3rd, May 1st, June 5th, July 10th, Aug 7th
Hours every Sunday: 11am-6pm.  

ARTISTS TENTS  - Water Street
50+ 10'x10' Artist Tents.
Each artist will have the opportunity to display a large array of artwork 


FASHION TENTS - Water Street
24 - 10'x10' Fashion Tents
The Greater Washington Fashion Chamber of Commerce will have a wide collection of their Couture Artists showcasing the latest in fashion.


VENDOR TENTS - Park Pavilion 
10 - 10'x10' Sponsor Tents
Browse through various companies and their goods and services.


FOOD VENDORS - Park Pavilion 
8 - 10'x10' Food Tents
Try the many yummy delights from local food vendors and discover a new favorite DC Eatery.


ARTS & CRAFTS VENDORS - Terraced Steps
60 - 2'x8' Arts and Crafts Tables
Explore through seas and seas of unique and amazing goods, ranging from robots hand-built from clock parts to jewelry made from found objects.

MUSIC 
At Marcātus music will be an integral part of each Sunday.  With the success of the forward festival last month Eighty eight and LilSoSo continue to curate 2 sound systems of music featuring local and national DJ's and Live electronic talent.  Also added will be live musical performances by local musicians performing everything from Jazz to Rock.

Would you like to participate? 
Email artiststents@artwhino.com for information on reserving an artist tent.
Email artsandcraftstents@artwhino.com for information on reserving a arts & craft table.
Email shane@artwhino.com for information on reserving a produce, sponsor or food tent.

Pictures of the first edition can be found below
http://www.flickr.com/photos/artwhino/sets/72157626470919168/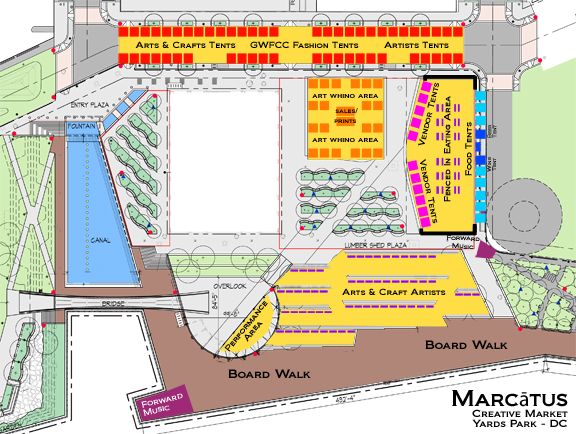 Click image above for larger view


Two Areas of Sound by EightyEight DC and Lil Soso: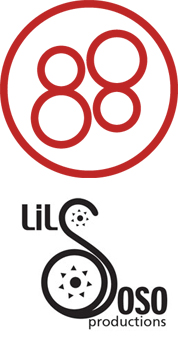 "OUTSIDE"

88, LilSoSo and FORWARD will once again be curating two areas of sound for Marcatus patrons to enjoy throughout the day. Music will range from down tempo boogie made for the sun to latin laced house beats. More info. to come!
Neil Kurland
Juan Zapata, Joe L. & Hugo Zapata
inK house (illogic n Kochi)
Boss Ross
Sam 'The Man' Burns
The Sol Power All Stars
Funk DC

For More info go to: 
http://www.eightyeightdc.com/








One Love Massive is an entertainment solutions company based out of Washington DC. One love was formed in 2002 and has traveled across the country and back several times over only to land back here in DC armed with 10 years of experience and a roster of DC's most talented artists. The Massive consists of DJs, VJs, producers, sound specialists, photographers, live artists, dancers, graphic designers, event planners, booking agents, artist development and recruiters, talent buyers, venues, bars, restaurants and small business owners.

One Love Massive area with Musical Performances by:
Parasols and Popsicles
Featuring performances by Soul Patch
Tim Jackson
The Band Called Future
Moonbounce DJs

Goodies at One Love Performance Area
Live art by Mason Jones
Homemade organic, natural juice Popsicles-
Hand designed parasols from artists in the One Love Massive Collective for sale with a portion of the proceeds going to Strive DC, a program that helps the chronically unemployed find and retain jobs in the DC area. Www.strivedc.com

One love massive
http://onelovemassive.com/

Jackson pro audio
http://www.jacksonproaudio.com

Grindstone universal
http://www.grindstoneuniversal.com/


DJ Set by Tim Jackson EPK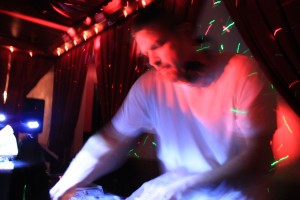 Tim Jackson began dj'ing with his first set of Technics 1200′s over 20 years ago. Having residencies in nightclubs in the Mid-West, DC and VA, he brings experience with many genres and crowds, House music being his main focus. From different styles of House to Funky Breaks and Vocal Drum and Bass, classic club tracks and hip hop, Tim is versatile, experienced and has a keen ear for great music.



Musical Performance by FUTURE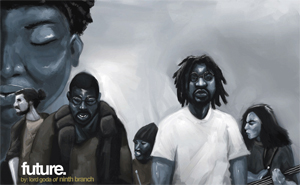 The band name "Future" was derived from a celebratory toast to the completion of their first song, "Carpe Diem" – in which the band unexpectedly cheered "to the future!"  They paused for moment, and laughed together at the realization that they had finally discovered their long awaited band name.  With over fifteen years of combined professional music experience Future uniquely delivers an experimentation of sound utilizing elements of Hip Hop, Reggae, Electronica, and Rock Fusion.  From outdoor festivals and underground clubs to premier music venues and sound-stages Future is cultivating a dedicated following of listeners who are as diverse as the band itself.


Musical Performance by Soul Patch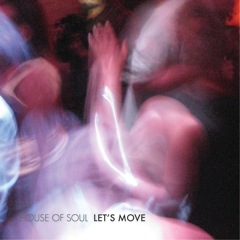 Soul Patch wants you to unplug your laptop and connect with people again – this time, on the dance floor.  In an age when parties are started by pressing "play" on a MacBook, and partygoers are more often glued to their smartphones than to each other, Soul Patch is remixing the concept of a dance party. Soul Patch pulsates music like a DJ would – but with real instruments – to create a personal and intimate approach to making a crowd sweat. It's the kind of music you'd hear at 2:00 a.m. at a loft party, at the U Street Music Hall or a Deep Sugar party in Baltimore. The band's draws on influences like Jamiroquai, Incognito and DJ Louis Vega, fusing house, funk and soul into groovy, uplifting jams.


Musical Performance by Batala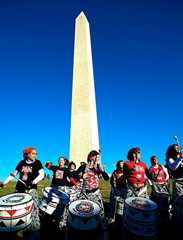 Batala in Washington, D.C. is part of a larger Batala family created in 1997 by Giba Gonçalves. Born and raised in Salvador, Bahia in Brazil, Giba was living in Paris when he first had the idea for the band. Open to anyone with an interest in learning the samba-reggae beat, the band started off with 60 people.  From Paris it spread to other cities in France, Belgium and the United Kingdom. In 2003, the band finally made its way back to its origins, brought to Brazil by Paulo Garcia, also the founder of the Portsmouth Batala. Composer and musical director, Giba enlisted the help of friends from the bands and from Salvador in order to create the visual identity of the band. The instruments and clothings are all manufactured in Salvador, Bahia, where the band has a social program that gives jobs to many families. From there they are shipped to the bands around the world.  In 2007, the newest branch of the Batala band was created in Washington, DC, expanding the reach of the band's music to the United States. Today, the band has over 300 percussionists around the world.



Musical Performance by Marcatu de Baque Virado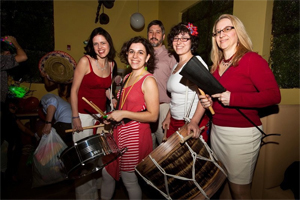 Maracatu de Baque Virado is an Afro-Brazilian percussive tradition from the north-east of Brazil.
Maracatu Baque do Mangue runs ongoing workshops in Afro-Brazilian rhythms, focusing on Maracatu de Baque Virado, a style of percussion from Recife, Brasil. In these workshops, students learn the technique and language of five instruments, work on rhythm and movement, and learn to sing while playing an instrument.





Wide collection of GWFCC Member Designers showcasing the latest in fashion with a show in July and August.


For More info on Gwfcc go to: http://gwfcc.org/




The Yards Park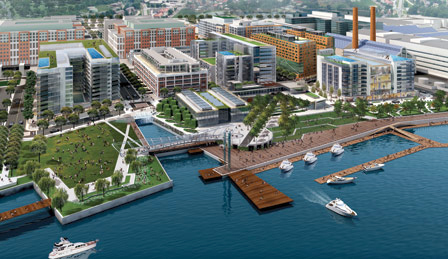 Like no other park in the region, The Yards Park is a new regional waterfront destination, offering a whole new way for local residents to enjoy the outdoors and the river.  The 5.5 acre park—the size of about four football fields—includes a ¼ mile long boardwalk along the water and was designed as a series of unique  "outdoor rooms"  to provide a variety of experiences from the great lawn to the sculptural pedestrian bridge, the waterfall/canal basin to the overlook and riverfront gardens. The Yards Park was built through a public/private partnership between the federal General Services Administration, the District of Columbia, and Forest City Washington and is managed and programmed by the Capitol Riverfront Business Improvement District.  Information about the Yards Park can be found atwww.capitolriverfront.org